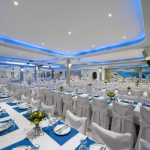 A remarkable gastronomic experience of Greek traditional tastes!
Dimitris Restaurant in Kamari village welcomes you to Santorini and introduces you the traditional Greek Mediterranean cuisine! Our mission is to provide an exceptional dining experience that is almost impossible to forget!
Dimitris Restaurant founded on 1984 and all those years until now satisfies even the most demanding guests who seek the well-known traditional tastes, delicious food and finest wine in their Santorini holidays! Restaurant is located south east of the center of Santorini and referred to Kamari village, just 200 meters away from the famous around the world black sandy beach!
Main menu is balanced between Mediterranean diet and Greek cuisine, based on local products and fresh ingredients. Traditional Greek gastronomy matches perfectly with gourmet recipes in a lovely menu plenty of delicious dishes & tasty choices! Do not forget the wine; in our traditional restaurant you can taste some of the finest wines of Santorini produced by local brand wineries!
The hall of Dimitris Restaurant can accommodate up to 400 people, ideal for every special moment of you like your Birthday, Wedding Day or any other event you keep in mind! Let's plan together your special needs or expectations of the menu and serve your guests an amazing food experience to remember!
Restaurant Dimitris in Santorini is mentioned of all our guests as one of the best restaurants in Santorini, a destination of astonishing entertainment! Warm atmosphere, flawless service combine with the enchanting tastes of our menu and set the right place to be when you visit this beautiful Aegean island!
It's a pleasure to see you at Dimitris Restaurant! We are looking forward to help you spend the most memorable time of your life!